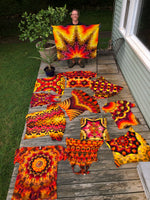 Wax Resist Batik
The batik pieces I create are unique and intricate works of art. My signature technique involves hand-tying each piece with waxed sinew, which creates crisp and bold lines that give definition to the work. I also use a tjanting to draw images on to the fabric with hot wax. This method has been used for centuries, and I'm honored to be able to continue this amazing art form while incorporating my own creative style.
Spring Vending
Vending has been an incredible addition to my business over the years. I feel so lucky that I get to meet amazing new people and reconnect with familiar faces during these events. It's remarkable how much creativity can be found in the works of local artists and musicians, and it is always inspiring to take part in the various arts and crafts shows and music shows. Vending has allowed me to showcase my own unique creations, and it continues to be one of my favorite aspects of owning a business.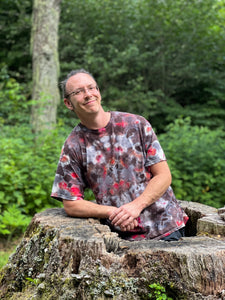 Meet the Maker
Dirt Wolf Dyes is a small business that specializes in hand-made, tie dye goods, focusing on clothing, tapestries, accessories. Founded by Jack, the business is driven by a passion for creating vibrant, colorful pieces that evoke joy.
Once Jack discovered his love for tie dye, he spent countless hours experimenting with different dyes and techniques to create one-of-a-kind pieces. After refining his technique, he decided to turn his hobby into a full-time business.
At Dirt Wolf Dyes, each piece is carefully crafted by hand, using only the highest-quality dyes and materials. Jack takes great pride in his work, and it shows in the advanced designs of a vintage craft.
In addition to clothing, tapestries, and accessories, Dirt Wolf Dyes also offers custom overall dyeing services, allowing customers to have their own unique, one-of-a-kind overalls.
Whether you're looking for a statement piece to add to your wardrobe, or a unique gift for someone special, Dirt Wolf Dyes has something for everyone. Visit their website to browse their collection and find your perfect piece.
City Beautification
My goal is to create beautiful art that can be seen by all, and to help add vibrance and life to barren cityscapes. With this initiative, I am exploring ways to bring public displays of art to urban areas, with the aim of beautifying cities and inspiring others. I believe that through meaningful displays of art, we can promote community spirit, while simultaneously contributing to the city's landscape.
Got 2 baby onesies and a tapestry from this amazingly talented artist! Excellent quality and insane tie dye skills!!

Kodi Estep
Purchased 3 T-shirts and a hoodie for my grandson for Christmas. Top notch! Hoodie is so soft & warm. T-shirts are beautiful colors. Wash & dry and still vibrant. I will replace them as outgrows them. Thank you so much for an amazing experience.

Dotty Hicks
I am absolutely blown away by the color and design of these curtains. Not only are they beautiful but the quality of the fabrics is top notch! Plus wonderful customer service! Will definitely be ordering from Dirt Wolf Dyes again!

Ashton Reid